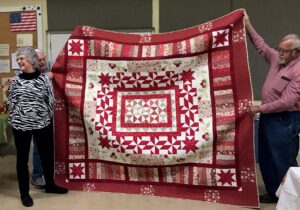 Deanna Skubal and Clay Logan showing the 2022 Quilt
This gorgeous queen size quilt can be seen most days at Carolina Crafting located next to the courthouse in downtown Murphy NC. You will also see this quilt show up at numerous events to be held at the community center this year including the summer concert series, summer family movie nights, painting socials, crafters fairs, and Labor Day picnic just to name a few. Proceeds Support the upkeep of the Brasstown Community Center which is a 501 (c) (3) corporation operated and maintained by donations and proceeds from concerts and other Fundraisers.
Raffle Tickets are $1 each of 6 for $5
Tickets are always on sale at Clay's Corner in Brasstown and Carolina Crafting at 49 Peachtree St. in Murphy. Tickets will also be available at events where the quilt makes an appearance; including the evening of the drawing which will be during the Thanksgiving Community Potluck to be held on Tuesday, November 15, 2022.
Brasstown Community Center would like to thank Deanna Skubal for donating this beautiful quilt. Deanna is a tireless supporter of the Brasstown Community Center and has donated a quilt each of the last 7 years. We truly appreciate her quality craftsmanship, artistry, and her giving heart when it comes to the Quilt Raffle and support of the Brasstown Community Center.
Link to the 2022 Quilt Raffle flyer
We want to congratulate the winner of last year's quilt raffle!