We are pleased to announce the lineup for the 2019 Summer Concerts. Some tried and true favorites are returning and we have a few new additions this year. We hope to see you at one or all the concerts. Bring your friends and family and enjoy some great bluegrass music!
The concerts are held May through August on the second and fourth Saturdays. Doors open at 6 p.m. and the music starts at 7 p.m.  Admission is $8, children under 12 are free. Hot dog and barbecue sandwich plates, homemade cobbler, ice cream and root beer floats will be available for purchase.
The center is a non-profit, and all proceeds from the concerts and facility rentals are for maintenance and upkeep of the building. The Brasstown Community Center is a 501C3 charitable organization.  Any and all donations will be greatly appreciated!  Checks can be sent to Brasstown Community Civic Center, PO Box 111, Brasstown, North Carolina 28902.
The Brasstown Community Civic Center is proud to be a part of the Blue Ridge Music Trails of North Carolina. Visit BlueRidgeMusicNC.com to find festivals, concerts, jam sessions, and plenty of singing and dancing to the Traditional Music of Western North Carolina.
May 11, 2019 – The Wilsons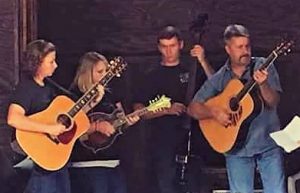 We all know and love this local family that have played bluegrass and gospel music for us and countless other groups, festivals, community gatherings and churches.
The group consists of Jimmy Wilson, (guitar/voice), son David (bass/voice), daughters Jessica (mandolin/voice) and Anna (guitar/voice). They are joined on stage by their friend Bill Pruett (banjo) from Robinsville, NC.
Photo from left to right: Anna, Jessica, Daniel and Jimmy Wilson
May 25, 2019 – Brush Fire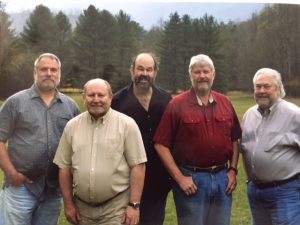 Brush Fire started as a band over 40 years ago. Their strong vocals and instrumental work, enthusiastic performances and varied repertoire keeps creating demand for their brand of bluegrass music. Mike Fleming has played guitar with the group since it's inception. He also contributes lead and harmony vocals and, by default, serves as emcee for the stage shows.
Eddie "Dumplin" Turner is a founding member and adds to the group with strong lead and tenor vocals as well as his mandolin work. Kerry Warbington joined the group in 1989 on banjo and vocal harmonies. He is well known in the bluegrass community as an exceptional banjo player and has performed with numerous groups over his career. The newest member of the group is Hiawassee resident Robert Brewer who has played bluegrass around North Georgia for the past 26 years. He plays guitar and mandolin as well as upright bass.
Photo from left to right: Scott Ferguson, Eddie "Dumplin" Turner, Kerry Warbington, Robert Brewer and Mike Fleming
June 8, 2019 – Lone Mountain Band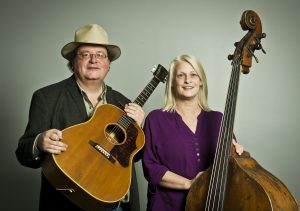 The Lone Mountain Band has established itself as one of the top Bluegrass bands of the Tennessee valley by former High School classmates Bobby Burns and Diana Phillips.
Bobby was born into a musical family. He plays many instruments, but mostly the mandolin and sometimes the fiddle or guitar. Bobby has played in professional bands since his teenage years. He sings lead and harmony vocals and does most of the MC work for the band.
Diana Phillips was trained as a classical pianist. While in college in Virginia she was exposed to Bluegrass music and fell in love with it. After school she moved back to Chattanooga where she teamed up with former classmate Bobby Burns. In addition to her skills on the bass fiddle, Diana is an excellent singer and songwriter.
June 22, 2019 – Just Us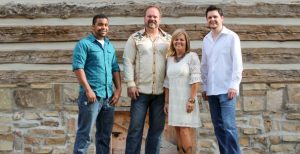 Just Us will perform at the last concert of the Summer Series at the Brasstown Community Center on Saturday, August 25th 2018.
Just Us Bluegrass Band is an exciting band based out of East TN. The band was formed in 2006 and features a unique blend of bluegrass, country and contemporary bluegrass. The band prides itself with strong vocals, tight harmonies and solid picking.
Band members (from left to right): Blake Atkins, Stacy Wilson, Teresa Wilson and Brent Womac
Stacy Wilson plays guitar and sings lead. He is also an accomplished banjo, mandolin and bass player. Teresa Wilson plays bass and sings tenor. She is also married to Stacy and has become his finest accomplished bluegrass student. Blake Atkins is Stacy and Teresa's son and he plays banjo and sings harmony vocals. He started playing bass at 13 and joined the band in 2009 playing rhythm guitar and singing harmony vocals. Brent Womac is the newest member the band and plays lead guitar. Brent comes from a blues background and can play any style of music well.
July 13, 2019 – Georgia Mail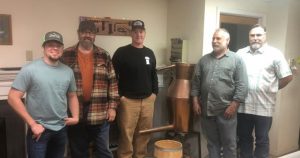 Georgia Mail is a new group whose members are from North Georgia and Western NC. Their focus is old-fashioned, traditional bluegrass music.
Their sound is based on the strong, soulful lead singing of Jeff Haynes, who also plays rhythm guitar. Kerry Warbington, from Cleveland, GA, is well respected as one of the best banjo pickers in the region.
From left to right: William Pruitt, Kerry Warbington, Wyatt Turner, Scott Ferguson, Jeff Haynes
Scott Ferguson from Warne, NC plays fiddle in the old style which stays close to the melody and draws on the blues. He also sings baritone. William Pruitt from Dahlonega GA is a driving dynamic mandolin player. And last but not least, Wyatt Turner from Clarksville GA. Wyatt sings tenor and keeps it all together on the upright bass.
July 27, 2019 – Blue Ridge Grass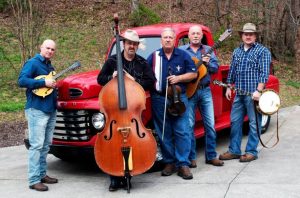 Blue Ridge Grass (BRG) was formed out of a jam session in 1981. Founding members were Ray Ritchie, Greg Brooks, Jim Ritchie, Buddy McClary and Don Miller.
The band traveled across the North Georgia mountains for about 30 years participating in festivals, private events, fund raisers, community events and what ever else they were invited to be a part of. There were limited band member changes during those years.
Photo from left to right: Jeff Graves – mandolin, Robbie Mathis – bass, Greg Brooks – fiddle, Perry Suits – guitar, and Jamie Mason – banjo
2019 brings new life to Blue Ridge Grass. Longtime members Greg and Jamie have joined with Perry Suits, Jeff Graves and Robbie Mathis to revive the music of BRG. Jeff can bring a tear to a glass eye with his lonesome vocals, Robbie keeps the group in time with a solid bass line and Perry needs no introduction as bluegrass is a family tradition in the Suits family.
Aug 10, 2019 – Jonah Riddle and the Carolina Express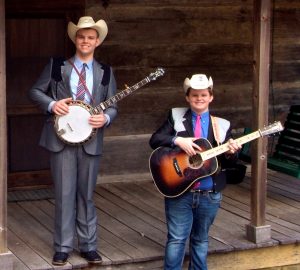 Born and raised in the hills of Western North Carolina, Jonah and Grayson Riddle have grown up with bluegrass heritage all around them.  At ten years of age, Jonah's grandad began to teach him to play dobro. With his grandad at his side, he began to dive deeper into music, until one day he picked up a banjo and knew that this was the instrument for him!
At a very early age, Grayson also learns to play guitar from his grandad. His love for this instrument quickly grew as he would stand in church ad hold his guitar and just strum, even though he didn't know how to fully play it yet. In addition to guitar, Grayson can play the upright bass and electric bass.
Photo from left to right: Grayson and Jonah Riddle
Aug 24, 2019 – Chuck Nation's Band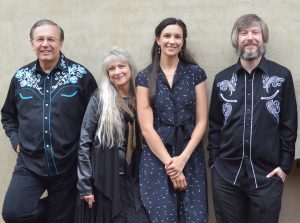 They made their Carnegie Hall debut performance in New York City in 2015. In 2016 they performed in concert at the historic Ryman Auditorium in Nashville, TN and were nominees for 2016 Georgia Music Awards for Americana/Bluegrass artist of the year. They have toured in Canada, Europe and Asia as well. It is always a pleasure to welcome them in Brasstown.
In addition to his singing and songwriting skills, Chuck Nation is equally skilled at playing fiddle, banjo, mandolin and guitar. Susan Nation (vocals/acoustic bass), is an acclaimed singer and songwriter who has performed Bluegrass around the world. Her singing and her solid bass playing skills provide a firm foundation to the band.
Libby Nation (vocals/guitar/mandolin/piano), sings and plays many instruments equally well. She teaches private music lessons to a full schedule of students in Atlanta, Alpharetta, and Gainesville, GA. Jody Hughes (banjo/guitar), is a multi-instrumentalist and vocalist from Canton, GA. He has performed bluegrass, solo jazz guitar, and popular music in various ensembles throughout the Southeast.
Photo from left to right: Chuck Nation, Susan Nation, Libby Nation and Jodi Hughes