It's been 2 years already since Covid-19 shut down our summer concerts, but now we are back! Although we don't have a full lineup, we are happy to provide some family-friendly fun this summer!
We are pleased to announce the lineup for the 2022 Summer Concerts. Some tried and true favorites are returning and we have a few new additions this year. We hope to see you at one or all the concerts. Bring your friends and family and enjoy some great bluegrass music!
May 7           Just Us
June 11         Bill Rinaldo – Newly added date
June 25         Carolina Express
July 9            Grizzly & Grizzell and Friends – New band
July 23          Lone Mountain Band
Doors open at 6 p.m. and the music starts at 7 p.m.  Admission is $10, children under 12 are free.  Hot dog plates, including a drink, homemade cobbler, ice cream and root beer floats will be available for purchase.
The center is a non-profit, and all proceeds from the concerts and facility rentals are for maintenance and upkeep of the building. The Brasstown Community Center is a 501C3 charitable organization.  Any and all donations will be greatly appreciated!  Checks can be sent to Brasstown Community Civic Center, PO Box 111, Brasstown, North Carolina 28902.
The Brasstown Community Civic Center is proud to be a part of the Blue Ridge Music Trails of North Carolina. Visit BlueRidgeMusicNC.com to find festivals, concerts, jam sessions, and plenty of singing and dancing to the Traditional Music of Western North Carolina.
May 7, 2022 – Just Us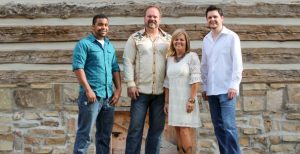 Just Us will perform will start the summer concert series at the Brasstown Community Center on Saturday, May 9th, 2022.
Just Us Bluegrass Band is an exciting band based out of East TN. The band was formed in 2006 and features a unique blend of bluegrass, country and contemporary bluegrass. The band prides itself with strong vocals, tight harmonies and solid picking.
Band members (from left to right): Blake Atkins, Stacy Wilson, Teresa Wilson and Brent Womac
Stacy Wilson plays guitar and sings lead. He is also an accomplished banjo, mandolin and bass player. Teresa Wilson plays bass and sings tenor. She is also married to Stacy and has become his finest accomplished bluegrass student. Blake Atkins is Stacy and Teresa's son and he plays banjo and sings harmony vocals. He started playing bass at 13 and joined the band in 2009 playing rhythm guitar and singing harmony vocals. Brent Womac is the newest member the band and plays lead guitar. Brent comes from a blues background and can play any style of music well.
Newly added date!


June 11, 2022 – Bill Rinaldo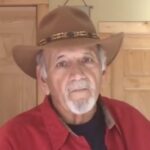 A resident of Hayesville, NC, Bill Rinaldo, is an entertainer, and retired PGA golf professional. In 2006, he won the "BRIGHTHOUSE TV SENIOR IDOL" competition in central Florida and went on to become the shows MC each year since.
He has been the opening act for BJ Thomas, Andy Andrews, Jay Johnson and more, has performed at numerous venues in Florida, Georgia and the Carolinas and even sang the Star Spangled Banner to open the NBA's nationally televised Orlando Magic game on January 27, 2009 and again at the Tampa Lightning NHL hockey game the next year.
Since he retired, it has a lot more time to hunt, fish, do shows and all the other things he loves. He is sure to provide us with an entertaining evening.
June 25, 2022 – Jonah Riddle and the Carolina Express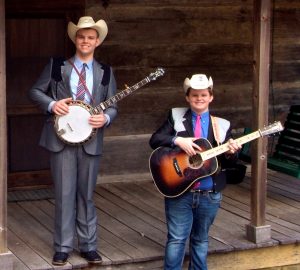 Born and raised in the hills of Western North Carolina, Jonah and Grayson Riddle have grown up with bluegrass heritage all around them.  At ten years of age, Jonah's grandad began to teach him to play dobro. With his grandad at his side, he began to dive deeper into music, until one day he picked up a banjo and knew that this was the instrument for him!
At a very early age, Grayson also learns to play guitar from his grandad. His love for this instrument quickly grew as he would stand in church ad hold his guitar and just strum, even though he didn't know how to fully play it yet. In addition to guitar, Grayson can play the upright bass and electric bass.
Photo from left to right: Grayson and Jonah Riddle
New band


July 9, 2022 – Grizzly & Grizzell and Friends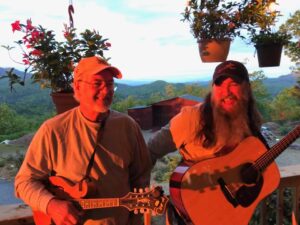 The founders of the band are Dan Adams (also called Grizzly Adams) and Brad Grizzell – hence the name of the band!
Dan plays mandolin and guitar and chimes in on vocals and Brad plays guitars and does most of the vocals.
Joining them on stage are a bass player Will Potts, a super mandolin bluegrass player Robert Smith and a fiddle player, from Waynesville NC, Karin Harps.
They will be entertaining us with their brand of bluegrass and we are looking forward to meeting them for the first time.
July 23, 2022 – Lone Mountain Band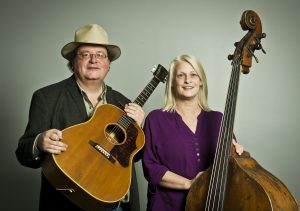 The Lone Mountain Band has established itself as one of the top Bluegrass bands of the Tennessee valley by former High School classmates Bobby Burns and Diana Phillips. They will be closing out the Brasstown Community Center summer concert series for 2022.
Bobby was born into a musical family. He plays many instruments, but mostly the mandolin and sometimes the fiddle or guitar. Bobby has played in professional bands since his teenage years. He sings lead and harmony vocals and does most of the MC work for the band.
Diana Phillips was trained as a classical pianist. While in college in Virginia she was exposed to Bluegrass music and fell in love with it. After school she moved back to Chattanooga where she teamed up with former classmate Bobby Burns.In addition to her skills on the bass fiddle, Diana is an excellent singer and songwriter.