We are pleased to announce the lineup for the 2023 Summer Concerts. Some tried and true favorites are returning and we have a few new additions this year. We hope to see you at one or all the concerts. Bring your friends and family and enjoy some great bluegrass music!
May 13      The Collins Family – NEW
May 27      Jimmy Wilson & Friends
Jun 10       Barker Brothers Band
Jun 24       Curtis Blackwell and the Dixie Bluegrass Boys – NEW
Jul 15         Grizzly & Grizzell
Jul 29        The Gladson Family – NEW
Aug 12       Lone Mountain Band
Aug 26      Just Us
The concerts are held May through August on the second and fourth Saturdays – except in July this year. We had to shift the dates in July, so please pay attention to the dates. Doors open at 6 p.m. and the music starts at 7 p.m.  Admission is $10, children under 12 are free. Hot dog and barbecue sandwich plates, homemade cobbler, ice cream and root beer floats will be available for purchase.
The center is a non-profit, and all proceeds from the concerts and facility rentals are for maintenance and upkeep of the building. The Brasstown Community Center is a 501C3 charitable organization.  Any and all donations will be greatly appreciated!  Checks can be sent to Brasstown Community Civic Center, PO Box 111, Brasstown, North Carolina 28902.
The Brasstown Community Civic Center is proud to be a part of the Blue Ridge Music Trails of North Carolina. Visit BlueRidgeMusicNC.com to find festivals, concerts, jam sessions, and plenty of singing and dancing to the Traditional Music of Western North Carolina.
Saturday, May 13, 2023 – The Collins Family
This year's Summer Concerts at the Brasstown Community Center will open up with a new band – The Collins Family – on Saturday May 13th, 2023.
The Collins family is a very musical family who play at local venues and churches. They have also competed in Bluegrass Band Competitions in surrounding states. The kids have been singing and picking their whole life.
Easton is 18, the lead singer and can play any stringed instrument he picks up. Carson is 16, sings lead an harmony, plays mandolin, guitar and a little on piano. Tennon is 14, sings and is learning guitar and piano. Finley is 10, she sings her heart out and is taking fiddle lessons. Mom, Shawna, sings harmony and dad, Ben, while he can play any stringed instrument, usually plays guitar, mandolin, or bass.
Ben is the son of Randall Collins who is part of the Collins Brothers and played a stint with Bill Monroe. Both sides of this family come from a long line of musicians and singers.
Saturday, May 27, 2023 – Jimmy Wilson and Friends
Jimmy and his friends all love bluegrass music and have played most of their lives. Jimmy and Daniel Wilson (father and son) were part of the Wilson Family Band for many years and both live in Brasstown, NC. Greg Fleming of Otto, NC has been playing bluegrass mandolin since 1996 and is an accomplished player. Jonathan Jones of Robbinsville, NC plays a mean banjo and Jerry Hensley from Ellijay, GA has been playing fiddle for 40 years.
These local, and seasoned, players are sure to entertain us with the bluegrass heritage music we all love. Come join us in welcoming this group of friends to the Brasstown Community Center!
Saturday, Jun 10, 2023 – Barker Brothers Band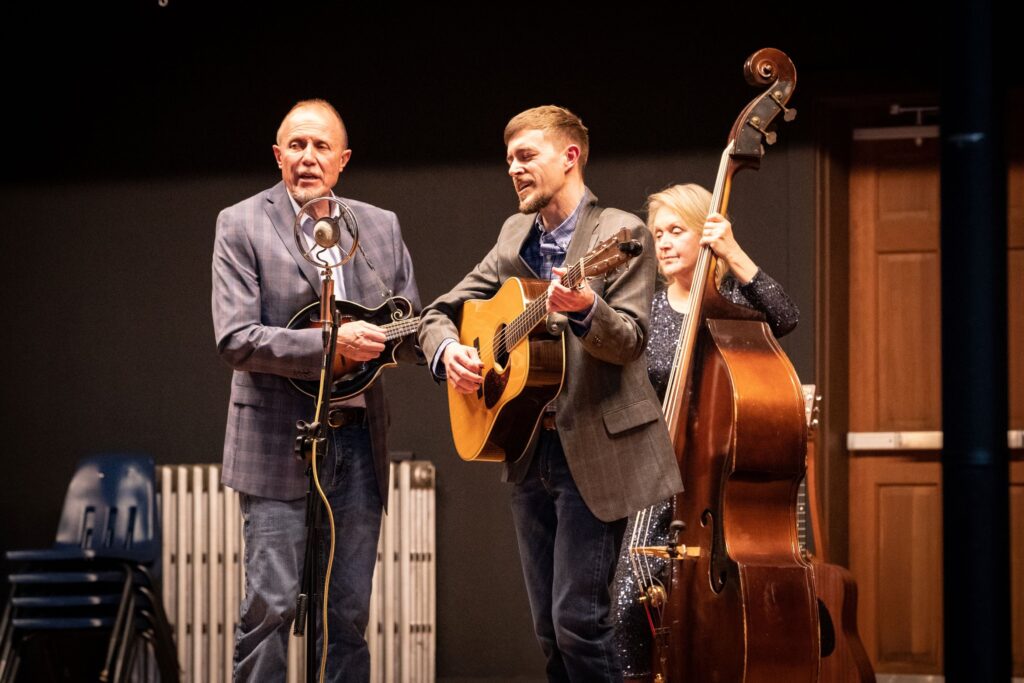 Left to right: Scott, Jeremy, and Angie Barker
Delivering music that is "born out of the mountains," the Barker Brothers draw from the depths of five generations of acoustic traditions, to bring a touch of their past to the present. Foot stomping and heartwarming, the Barkers honor an authentic Appalachian heritage of old-time and gospel music combined with a riveting mix of high energy bluegrass and back road Americana designed to keep you on the edge of your seat while taking you back to a simpler time in life.
Jeremy Barker minored in Appalachian studies at East TN State University and has gained regional recognition for his extraordinary vocal prowess and seasoned command of the flattop guitar. Scott Barker effectively draws mellow harmonics from the mandolin and adds to the powerful harmony that resounds throughout their performance. Angie Barker energetically enhances the rhythm on the upright bass.
Saturday, June 24, 2023 – Curtis Blackwell and the Dixie Bluegrass Boys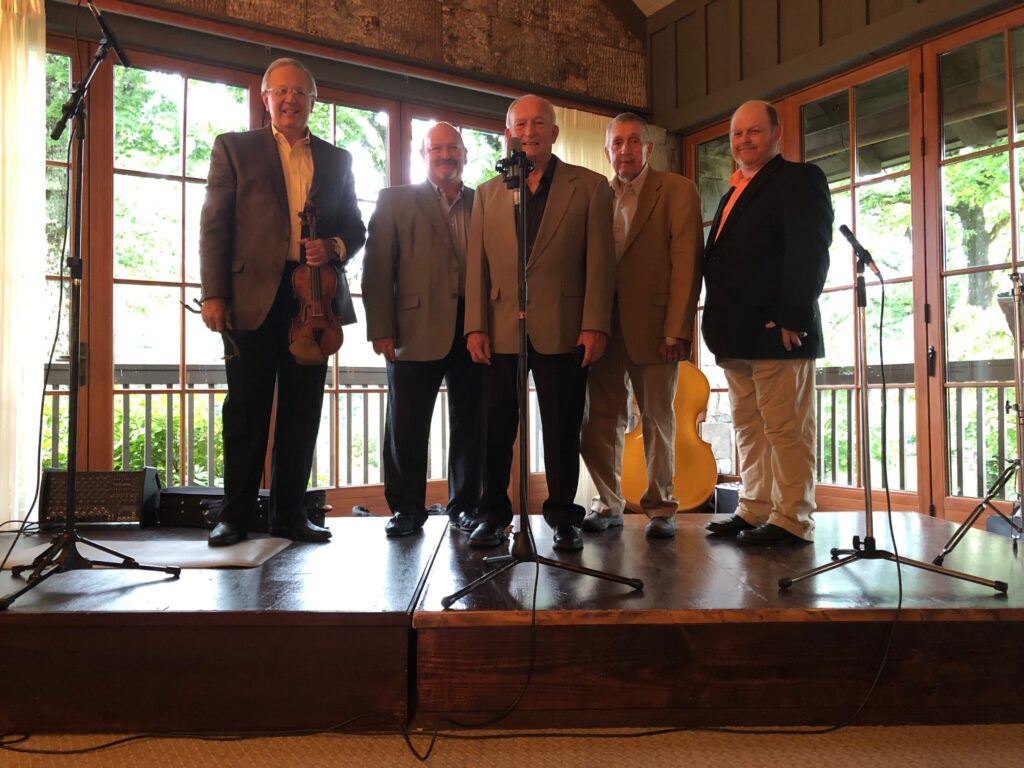 From the hills of north Georgia comes the high lonesome sounds of bluegrass at its finest Curtis Blackwell and the Dixie Bluegrass Boys. Though some of the members have changed through the years Curtis Blackwell has remained the same… hard driving high lonesome solos with great vocal harmony.
Curtis was once a member of Bill Monroe's Bluegrass Boys where he played guitar and sang various parts before starting a long and current task of the band leader and still is today. Curtis is a member of the Bluegrass Hall of Fame as a Pioneer of Bluegrass, a member Atlanta Country and Bluegrass Hall of Honor. He plays guitar and sing various parts in the band. With over 70 years in music there isn't much he hasn't seen or played from the Worlds Fair to two tours in Ireland he is sure to be a favorite to all.
Curtis is currently accompanied by two of his sons.
Shane has played with a lot of groups throughout his career, Marty Rabon, Sierra Hull, Larry Stephenson and many others. He is currently playing banjo and sing as well. Vic Blackwell has been playing mandolin and sings as well. He has been a part of the group for 20 plus years. The newest member of the group is Zack Cash on bass. He replaces the longtime bass player Sam Cobb who was with the band til 2022. Zack also is a great singer as well.
This is a new grouo for us, let's give them a hearty Brasstown welcome. Bring your friends and family and let's have a great time!
Saturday, July 15, 2023 – Grizzly & Grizzell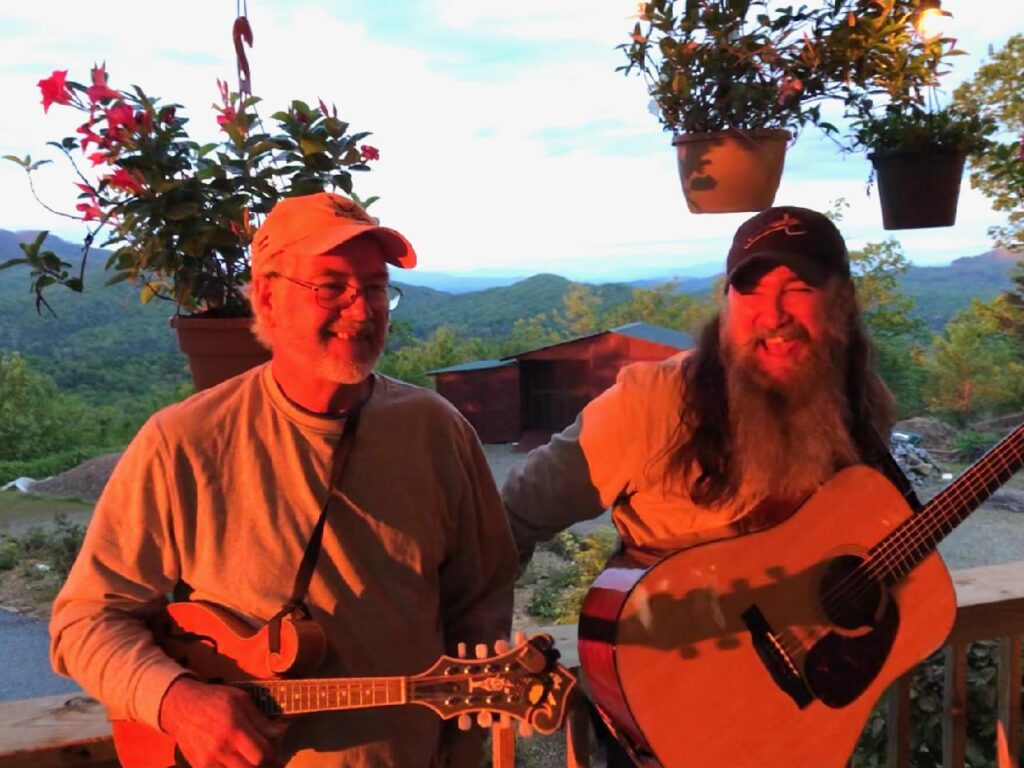 Band founders Dan "Grizzly" Adams (left) and Brad Grizzell
The founders of the band are Dan Adams (also called Grizzly Addams) and Brad Grizzell – hence the name Grizzly & Grizzell. Dan plays mandolin and guitar and chimes in on vocals and Brad plays guitars and does most of the vocals. Joining them on stage are a bass player Will Potts, a super mandolin bluegrass player Robert Smith and a fiddle player, from Waynesville NC, Karin Harps.
They will be entertaining us with their brand of bluegrass and we are looking forward to welcoming them back!
Saturday, July 29, 2023 – The Gladson Family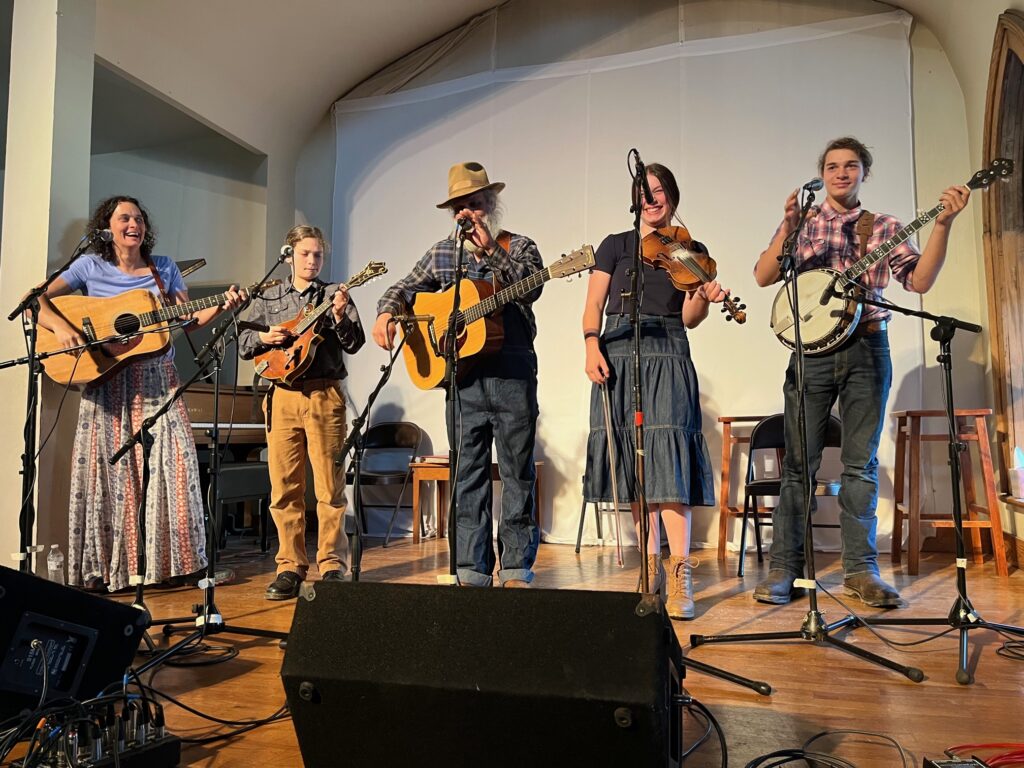 Photo from left to right: Juliet, Lemuel, Todd, Lindy, and Harlen Gladson
The Gladson Family Band from Knoxville, Tennessee, plays traditional bluegrass and gospel music. Performing fiddle tunes, breakdowns, and nostalgic songs of the past, they are sure to entertain crowds of all ages.
The band consists of Todd and Juliet, paying guitar and singing, their children Harlen on banjo, Lindy on the fiddle, and Lemuel on a mandolin.
Looking forward to meeting this group for the first time!
Saturday, August 12, 2023 – The Lone Mountain Band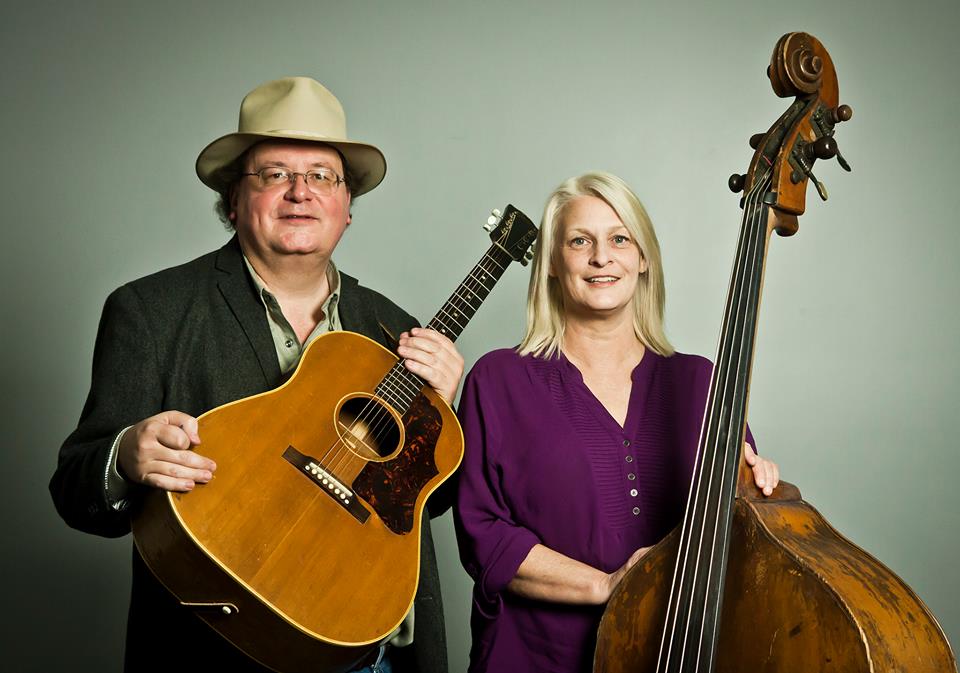 Bobby Burns and Diana Phillips
An annual favorite, The Lone Mountain band is a seasoned group, much appreciated at the Brasstown Community Center!
Bobby Burns was born into a musical family. He plays many instruments, but with the band plays mostly the mandolin and sometimes the fiddle or guitar on selected tunes. Bobby has played in professional bands since his teenage years. He is a full time luthier and repairman. Bobby sings lead and harmony vocals and does most of the MC work for the band.
Diana Phillips was trained as a classical pianist. While in college in Virginia she was exposed to Bluegrass music and fell in love with it. After school she moved back to Chattanooga where she teamed up with former classmate Bobby Burns. In addition to her skills on the bass fiddle, Diana is an excellent singer and songwriter.
Saturday, August 26, 2023 – Just Us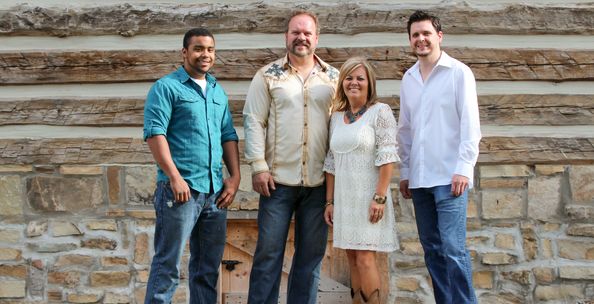 Band members (from left to right): Blake Atkins, Stacy Wilson, Teresa Wilson and Brent Womac
To close out the Summer Concert Series, we have brought back a fan favorite – Just Us!
This is an exciting band based out of East Tennessee that was formed in September of 2006 and features a unique blend of bluegrass, country and contemporary bluegrass. They take pride in their strong vocals, tight harmonies and solid picking.
Stacy Wilson plays guitar and sings lead. He is also an accomplished banjo, mandolin and bass player. Teresa Wilson plays bass and sings tenor. She is also married to Stacy and has become his finest accomplished bluegrass student.
Blake Atkins is Stacy and Teresa's son and he plays banjo and sings harmony vocals. He started playing bass at 13 and joined the band in 2009 playing rhythm guitar and singing harmony vocals. Brent Womac is the newest member the band and plays lead guitar. Brent comes from a blues background and can play any style of music well.