Brasstown Community Civic Center
The Brasstown Community Civic Center (BCCC) is located in the scenic mountains of Clay County, North Carolina.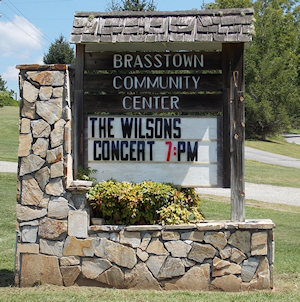 Brasstown is a community of about 600 people living on both the Clay and Cherokee sides of the county line. In 1992, local residents, in cooperation with the Clay County Commissioners, developed and elected their leadership and incorporated BCCC as a tax exempt, non-profit organization.  This organization "promotes the welfare, civic spirit and pride" of Brasstown and the immediate vicinity.
Since 1994 the Community Center has served as a popular location for concerts, gospel sings, potluck dinners, entertainment, art exhibits, family reunions, arts and crafts shows, youth and adult basketball and educational classes. There are also fund-raisers held for many different worthy causes: such as cancer, heart attack victims and families displaced by fire. The BCCC is also the location for educational classes focusing on health, agriculture, cooking, sewing, gardening, and rural economic development.
BCCC has a large event room/gym, complete with basketball courts, certified kitchen, meeting room, shower and storage room. There is also an outdoor quarter mile walking track with fitness stations and 3 acres of grassy area for outdoor activities with a fenced playground and picnic table.
The Brasstown Community Civic Center is a 501(c)(3) corporation operated and maintained by donations and proceeds from concerts and other Fundraisers.

Donate to the BCCC using AmazonSmile. You shop. Amazon Gives!
---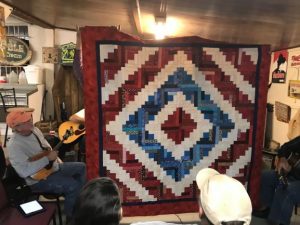 Win a Quilt!
Here it is, the 2020 quilt we are raffling as a fundraiser for the Brasstown Community Center. The quilt was generously donated by Deanna Skubal again this year.
Deanna has been a tireless supporter of the community center and has donated quilts for the last 5 years! We appreciate her artistry, quality workmanship and her generous heart. Thank you Deanna!
This is a queen size quilt that can been seen at Clay's Corner most days or at any of the fundraising events held at the community center, especially during the summer concerts between May and August. Raffle tickets are $1 each or 6 for $5 and for sale at Clay's Corner.
The quilt is awarded during our Thanksgiving Community Pot Luck in November. You do not need to be present to win. The Brasstown Community Center is a 501.3c non-profit organization – we survive on your donations.