Hello Friends of the Brasstown Community Center,
Wow! The summer has flown by and Labor Day is right around the corner, time for school and harvesting! We will be hosting a Poor Man's Meal fundraiser and a Community Potluck mid September and the NC Extension Cooperative is having a Tractor Parade on the Square in Hayesville at the end of the month. We are pleased to announce that the construction of the gazebo is complete – come by and check it out!
Poor Man's Meal
Sunday, September 18th, 2022 between 11am-2pm
As part of our on-going fundraising efforts and community building projects, we will be hosting a Poor Man's Meal. On the  menu, beans and cornbread, onions slaw, drink (water, soda, coffee), and dessert – all for $5.00! Stay out of the kitchen, do a good deed, and come join us to eat-in or carry out — we can't wait to see you there!
Click here to see the Poor Man's Meal 2022 flyer.
Community Potluck
Tuesday September 20th at 6:00 pm
These pot luck dinners are always a great place to share food and companionship with your friends and neighbors in the community. It's a fun and family-friendly get-together where you can reconnect with your friends and make meet new ones. Bring a dish to share!
Tractor Parade
Saturday September 24th at 10am
Check out the NC Cooperative Extension Newsletter for some fun and useful activities, such as staring a home based food business, forestry workshop, gardening, 4H, sewing camp, and all things apple – apple butter, apple pie and dried apple wreaths! Click on the link to sign up for their newsletter https://clay.ces.ncsu.edu.
Tractor Parade PDF flyer
Special Project 2022 – Helping Hands
Linda Gibson and Peg Cranford came by to check out the gazebo after an early morning walk on our walking trail!
The gazebo is part of a larger grant to help distribute food to the community – we call this project Helping Hands!
Check out all the photos on our web site at https://brasstowncommunitycenter.org/events/2022-special-project
2022 Quilt Raffle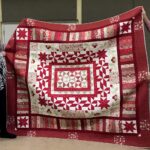 You can purchase raffle tickets for this year's quilt at Carolina Crafters in Murphy, Clay's Corner in Brasstown and at all the community center events. Tickets are $1 each or 6 for $5.
This is another fundraising effort for the community center. Deanna Skubal (right) generously donates a quilt each year – let's show our appreciation for her work by raising lots of money!
For all kinds of other events and happenings in the area, also check out the Clay and Cherokee County Chamber of Commerce websites:
https://www.claychambernc.com/
https://www.cherokeecountychamber.com/events-calendar/
Your Brasstown Bell Crier,
Sarah
Sept Brasstown Bell Newsletter in PDF form