Hello Friends of the Brasstown Community Center,
COVID -19 – The Brasstown Community Center large building is now available to rent for groups of 50 or less with appropriate social distancing.  The Brasstown Community Center Education Building is available for groups of 20 or less. Face Masks are recommended.
The annual Thanksgiving/Christmas potluck will not be held in 2020 but a meeting will be held in compliance of the bylaws to elect new board members.  Tables will be set up for appropriate social distancing and it is recommended that face masks be worn.
Please continue to be vigilant about the virus, maintain social distancing (6 feet between persons) and practice good sanitation measures.  Face masks are beneficial and protect others in case the person wearing the mask is contagious and doesn't realize it.  We want to protect our elders and members of the community who already have other health issues.  That also helps protect our healthcare workers who are under tremendous pressure as they are constantly at risk for their own safety and the safety of their families.  The sooner we can stop spreading the virus around, the sooner we can return to the normalcy we all long for.  May you all stay safe and healthy!
2020 Quilt Raffle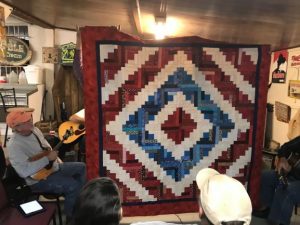 Here it is, the 2020 quilt we are raffling as a fundraiser for the Brasstown Community Center. The quilt was generously donated by Deanna Skubal again this year.
Deanna has been a tireless supporter of the community center and has donated quilts for the last 5 years! We appreciate her artistry, quality workmanship and her generous heart. Thank you Deanna!
This is a queen size quilt that can been seen at Clay's Corner most days or at any of the fundraising events held at the community center, especially during the summer concerts between May and August. Raffle tickets are $1 each or 6 for $5, and can be purchased at Clay's Corner.
The quilt is awarded during the Board Meeting on November 17th. You do not need to be present to win. The Brasstown Community Center is a 501.3c non-profit organization – we survive on your donations.
The Silva Gallery has reopened and will be open through December.  Hours are 10:00 am – 4:00 pm, Wednesday through Friday, and Saturdays 10 am – 3:00 pm.  The holidays are approaching and Pam has many beautiful hand crafted items which would make wonderful gifts for family and friends.
Your Brasstown Bell Crier,
Virginia Miller