Hello Friends of the Brasstown Community Center,
COVID -19 – We are all learning new ways to live as the Covid-19 pandemic continues to plague our country.  For some of us older members of the county, it isn't exactly new, but more like it was when we were going up and that wasn't all bad.  Some of us are rediscovering our old fashioned roots.  While there is much that we miss, we have also found there is much to be thankful for.  Please continue to be vigilant about the virus, maintain social distancing (6 feet between persons) and practice good sanitation measures.  Face masks are beneficial and protect others in case the person wearing the mask is contagious and doesn't realize it.  We want to protect our elders and members of the community who already have other health issues.  That also helps protect our healthcare workers who are under tremendous pressure as they are constantly at risk for their own safety and the safety of their families.  The sooner we can stop spreading the virus around, the sooner we can return to the normalcy we all long for.  May you all stay safe and healthy!
The Brasstown Community Center Education Building is now available for groups of 20 or less.  The main building of Brasstown Community Center continues to be closed at this time.  No pot-luck will be held in September.
2020 Quilt Raffle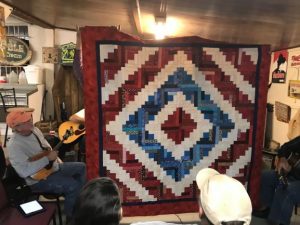 Here it is, the 2020 quilt we are raffling as a fundraiser for the Brasstown Community Center. The quilt was generously donated by Deanna Skubal again this year.
Deanna has been a tireless supporter of the community center and has donated quilts for the last 5 years! We appreciate her artistry, quality workmanship and her generous heart. Thank you Deanna!
This is a queen size quilt that can been seen at Clay's Corner most days or at any of the fundraising events held at the community center, especially during the summer concerts between May and August. Raffle tickets are $1 each or 6 for $5, and can be purchased at Clay's Corner.
The quilt is awarded during our Thanksgiving Community Pot Luck in November. You do not need to be present to win. The Brasstown Community Center is a 501.3c non-profit organization – we survive on your donations.
A Message From Cyndi Singh of Back to Balance Massage Therapy and Bodyworks:
Ten-years ago my dream to introduce the healing arts of massage therapy to the Brasstown community came to fruition.  During my service, I gained so many learning experiences, which helped me grow personally and professionally, but most importantly, allowed me to fulfill my destiny in the healing arts profession.  Brasstown is such a magical, unique, diverse community like no other, we are so blessed.  Like everything in life, change comes and we realize everything is impermanent.   Covid-19 has changed the face of our world and how we will manage all of our endeavors.  Back in March I temporarily closed thinking this would be over by summer.  Unfortunately, things are getting worse, 300,000 people are expected to lose their lives by December due to this dreadful pandemic. In order to keep my clients and myself safe, I have decided to close my doors permanently to allow someone else to utilize this beautiful space.  The good news is that I'm going to spend some time at home getting some projects completed.  I also plan on using this down time to continue with my studies in the field of Massage & Bodywork.  I will be returning back to massage, but only when it is safe for everyone.  Thank you to all the wonderful clients and friends, I could not have made this dream possible without you.  Safe journey!
Cyndi Singh, LMBT
Back to Balance Massage Therapy & Bodyworks
Brasstown, NC
Thank you, Cyndi!  You are a true healer and so many of us have benefited from your gift.  We all look forward to the day that you will be able to safely practice healing arts in Brasstown again!
Your Brasstown Bell Crier,
Virginia Miller