Hello Friends of the Brasstown Community Center,
The Brasstown Community Center continues its Summer Concert Series with Third Degree on Saturday, August 11th 2018. This is the next to the last concert!
Third Degree is proud to carry on the bluegrass tradition. The band delivers to the audience a mix of bluegrass, gospel and country music seasoned with some old time fiddle tunes. Band members all have their families, jobs and hobbies but through their love for music share a close friendship that the audience can feel as they perform.
Not to tell anyone's age, but most of these guys have been picking since they were young lads over forty years ago. They may pick for the fun of it but each member takes their music seriously. If you enjoy the dance floor, you will want to wear your dancing shoes as these guys give the cloggers and dancers a fierce work out!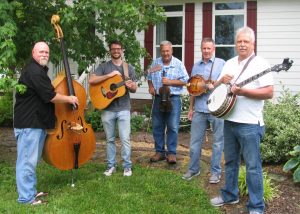 Band members (from left to right) consist of: Tim Painter (bass), Tyler Ritchie (guitar), Greg Brooks (fiddle), Larry Rapier (mandolin) and Dewayne Smith (banjo).
The Brasstown Community Civic Center is proud to be a part of the Blue Ridge Music Trails. Visit BlueRidgeMusicNC.com to find more traditional music of Western North Carolina.
Doors open at 6 p.m. and the music starts at 7 p.m. Admission is $5, children under 12 are free. Hot dog and barbecue sandwich plates, homemade cobbler, ice cream and root beer floats will be available for purchase.
Fundraiser concerts are held May through August on the second and fourth Saturdays. The center is a non-profit, and all proceeds from the concerts and facility rentals are for maintenance and upkeep of the building. For details, call 828-361-3040.
Your Brasstown Bell Crier,
Virginia Miller