Hello Friends of the Brasstown Community Center,
The Brasstown Community Center is proud to welcome back Jonah Riddle and the Carolina Express on Saturday, August 10th 2019 in the next to the last event of our Summer Concert Series.
Born and raised in the hills of Western North Carolina, Jonah and Grayson Riddle have grown up with bluegrass heritage all around them.  At ten years of age, Jonah's grandad began to teach him to play dobro. With his grandad at his side, he began to dive deeper into music, until one day he picked up a banjo and knew that this was the instrument for him!
At a very early age, Grayson also learns to play guitar from his grandad. His love for this instrument quickly grew as he would stand in church ad hold his guitar and just strum, even though he didn't know how to fully play it yet. In addition to guitar, Grayson can play the upright bass and electric bass.  No matter the crowd, he wants to put a smile on every face, and a love for bluegrass in their heart.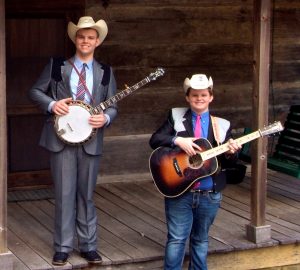 From left to right: Grayson and Jonah Riddle
The Brasstown Community Civic Center is proud to be a part of the Blue Ridge Music Trails. Visit BlueRidgeMusicNC.com to find more traditional music of Western North Carolina.
Doors open at 6 p.m. and the music starts at 7 p.m. Admission is $8, children under 12 are free. Hot dog and barbecue sandwich plates, homemade cobbler, ice cream and root beer floats will be available for purchase.
Fundraiser concerts are held May through August on the second and fourth Saturdays. The center is a non-profit, and all proceeds from the concerts and facility rentals are for maintenance and upkeep of the building. For details, call 828-361-3040.