Hello Friends of the Brasstown Community Center,
The Brasstown Community Civic Center Summer Concert Series is proud to present for the first time Blue Ridge Grass on Saturday July 27th, 2019.
The band was formed out of a jam session in 1981. Founding members were Ray Ritchie, Greg Brooks, Jim Ritchie, Buddy McClary and Don Miller. The band traveled across the North Georgia mountains for about 30 years participating in festivals, private events, fund raisers, community events and what ever else they were invited to be a part of. There were limited band member changes during those years.
2019 brings new life to Blue Ridge Grass (BRG). Longtime members Greg and Jamie have joined with Perry Suits, Jeff Graves and Robbie Mathis to revive the music of BRG. Jeff can bring a tear to a glass eye with his lonesome vocals, Robbie keeps the group in time with a solid bass line and Perry needs no introduction as bluegrass is a family tradition in the Suits family.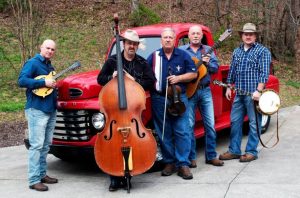 Photo from left to right: Jeff Graves – mandolin, Robbie Mathis – bass, Greg Brooks – fiddle, Perry Suits – guitar, and Jamie Mason – banjo
The Brasstown Community Civic Center is proud to be a part of the Blue Ridge Music Trails. Visit BlueRidgeMusicNC.com to find more traditional music of Western North Carolina.
Doors open at 6 p.m. and the music starts at 7 p.m. Admission is $8, children under 12 are free. Hot dog and barbecue sandwich plates, homemade cobbler, ice cream and root beer floats will be available for purchase.
Fundraiser concerts are held May through August on the second and fourth Saturdays. The center is a non-profit, and all proceeds from the concerts and facility rentals are for maintenance and upkeep of the building. For details, call 828-361-3040.
Please come out and support our Community Center!  Raffle tickets for the beautiful quilt Deanna Skubal has donated will be available.  Please consider purchasing one or more.
Your Brasstown Bell Crier,
Virginia Miller