Hello Friends of the Brasstown Community Center,
The Brasstown Community Civic Center Summer Concert Series is proud to present Georgia Mail on Saturday July 13th, 2019. This will be the first time this group performs for us, so we hope you will all come out and make them feel welcome!
Georgia Mail is a new group whose members are from North Georgia and Western NC. Their focus is old-fashioned, traditional bluegrass music. Their sound is based on the strong, soulful lead singing of Jeff Haynes, who also plays rhythm guitar. Kerry Warbington, from Cleveland, GA, is well respected as one of the best banjo pickers in the region. Scott Ferguson from Warne, NC plays fiddle in the old style which stays close to the melody and draws on the blues. He also sings baritone. William Pruitt from Dahlonega GA is a driving dynamic mandolin player. And last but not least, Wyatt Turner from Clarksville GA. Wyatt sings tenor and keeps it all together on the upright bass.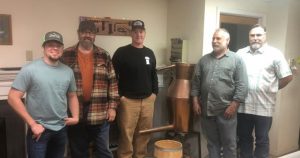 Photo from left to right: William Pruitt, Kerry Warbington, Wyatt Turner, Scott Ferguson, Jeff Haynes
The Brasstown Community Civic Center is proud to be a part of the Blue Ridge Music Trails. Visit BlueRidgeMusicNC.com to find more traditional music of Western North Carolina.
Doors open at 6 p.m. and the music starts at 7 p.m. Admission is $8, children under 12 are free. Hot dog and barbecue sandwich plates, homemade cobbler, ice cream and root beer floats will be available for purchase.
Fundraiser concerts are held May through August on the second and fourth Saturdays. The center is a non-profit, and all proceeds from the concerts and facility rentals are for maintenance and upkeep of the building. For details, call 828-361-3040.
Please come out and support our Community Center and hear some great bluegrass at the same time!
Your Brasstown Bell Crier,
Virginia Miller