Hello Friends of the Brasstown Community Center,
The Brasstown Community Center Education Building is now available for groups of 20 or less.
The main building of Brasstown Community Center will continue to be closed for the month of July.  No pot-luck will be held in July. The situation will be re-evaluated month by month.  Please continue to be vigilant about the risk of the virus and diligent with social distancing and sanitation measures.
The 2020 Summer Concert Series has been cancelled – hopefully, we can resume normal operations next year!
2020 Quilt Raffle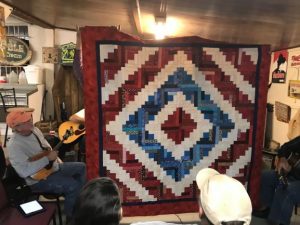 Here it is, the 2020 quilt we are raffling as a fundraiser for the Brasstown Community Center. The quilt was generously donated by Deanna Skubal again this year.
Deanna has been a tireless supporter of the community center and has donated quilts for the last 5 years! We appreciate her artistry, quality workmanship and her generous heart. Thank you Deanna!
This is a queen size quilt that can been seen at Clay's Corner. Raffle tickets are $1 each or 6 for $5, and can be purchased at Clay's Corner.
The quilt is awarded during our Thanksgiving Community Pot Luck in November. You do not need to be present to win. The Brasstown Community Center is a 501.3c non-profit organization – we survive on your donations.
Clay's Corner is OPEN.  Stop by for gas, and essentials.  The Saturday morning breakfast at Clay's Corner has been resumed for those whose spouses like to sleep in on Saturday.  Breakfast is served at 8 am.
The Silva Gallery is now open Wednesday through Saturday from 10 am to 4:30 pm.   Pam Silva has many beautiful things in the gallery with which to decorate your home or give as gifts.
The Moss Memorial Library:  Is now offering curbside service.  
Checklist for Curbside Service:
Members of the public will not be allowed inside the building.
Book drops will be open for returns. We will waive all late fees for items returned.
Place holds on items by calling the library or using the online catalog.
You will be notified when your items are available and given a time to come to the library. Pickup hours will be Tues-Fri between the hours of 11am-3pm.  All items will already have been checked out to you and a date due stamp will be on the book.
A pick up table will be set-up in the front door foyer and a bin for any returns will also be in there.  If you return items in the bin, instead of the book drop, bring them in a plastic bag. Your requested items will be in a bag with your name on it.  Library materials that have been returned will be put in quarantine for 72 hours for disinfection purposes. We will waive all late fees that occur.  All materials picked up by patrons at curbside will have been quarantined and disinfected already. We expect this service to continue through Phase 2 of North Carolina's reopening plan and we will adjust our services based on new evidence or lighter restrictions. For details, call Moss Memorial Library  828-389-8401.
Your Brasstown Bell Crier,
Virginia Miller