Hello Friends of the Brasstown Community Center,
Here we are already in July! This month, we have two bluegrass concerts for you to enjoy, a monthly potluck dinner on the third Tuesday of the month. Unfortunately, we have had to cancel our Family Movie Nights. However, we have a brand new band playing for us on July 9, 2022 and we hope you will come out and support them and your Community Center. Bring your friends and family and let's have some fun!
Summer Concerts: Doors open at 6 p.m. and the music starts at 7 p.m. Admission is $10, children under 12 are free. Hot dog plates, including a drink, homemade cobbler, ice cream and root beer floats will be available for purchase.
Reminder: The Brasstown Community Center is a non-profit, and all proceeds from the concerts and facility rentals are used for the maintenance and upkeep of the facilities.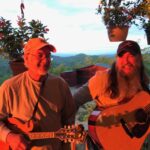 July 9, 2022 – Grizzly & Grizzell and Friends
The founders of the band are Dan Adams (also called Grizzly Addams) and Brad Grizzell – hence the name Grizzly & Grizzell.
Dan plays mandolin and guitar and chimes in on vocals and Brad plays guitars and does most of the vocals.
Photo: Band founders Dan "Grizzly" Adams (left) and Brad Grizzell
Joining them on stage are a bass player Will Potts, a super mandolin bluegrass player Robert Smith and a fiddle player, from Waynesville NC, Karin Harps.
They will be entertaining us with their brand of bluegrass and we are looking forward to meeting them for the first time.
Monthly Potluck – Tuesday July 19th at 6:00 pm
These pot luck
dinners are always a great place to share food and companionship with your friends and neighbors in the community.
It's a fun and family-friendly get-together where you can reconnect with your friends and make meet new ones.
Bring a dish to share!
The Lone Mountain Band will close out this year's Summer Concerts at the Brasstown Community Center on Saturday July 23rd, 2022.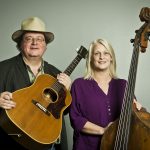 The group has established itself as one of the top Bluegrass bands of the Tennessee valley, since it was formed in the late 90's by former High School classmates Bobby Burns and Diana Phillips.
We all know and love these musicians, so come out one last time for the concert and enjoy a night of fun, food, music and friends!
Special Project 2022 – Helping Hands
For those of you who may not have noticed, construction has started on out new outdoor stage, We received funding through a grant late in 2021 and had to wait until the weather cleared up to start, The stage is part of a larger grant to help distribute food to the community – we call this project Helping Hands! Here are a few photos of the project – you can follow our progress on our web site at https://brasstowncommunitycenter.org/events/2022-special-project.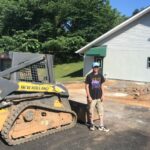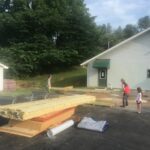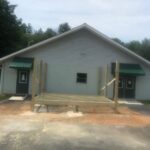 2022 Quilt Raffle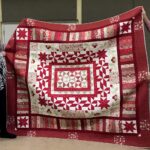 You can purchase raffle tickets for this year's quilt at Carolina Crafters in Murphy, Clay's Corner in Brasstown and at all the community center events. Tickets are $1 each or 6 for $5.
This is fundraising effort for the community center. Deanna Skubal (right) generously donates a quilt each year – let's show our appreciation for her work by raising lots of money!
If you are going out to celebrate the Fourth of July, stay safe and have fun!
Your Brasstown Bell Crier,
Sarah