Hello Friends of the Brasstown Community Center,
Just Us is back at the Brasstown Community Center to perform on Saturday, June 22nd, 2019 as part of our Summer Concert Series.
Just Us Bluegrass Band is an exciting band based out of East Tennessee. The band was formed in September of 2006 and features a unique blend of bluegrass, country and contemporary bluegrass. The band prides itself with strong vocals, tight harmonies and solid picking.
Stacy Wilson plays guitar and sings lead. He is also an accomplished banjo, mandolin and bass player. Teresa Wilson plays bass and sings tenor. She is also married to Stacy and has become his finest accomplished bluegrass student.
Blake Atkins is Stacy and Teresa's son and he plays banjo and sings harmony vocals. He started playing bass at 13 and joined the band in 2009 playing rhythm guitar and singing harmony vocals. Brent Womac is the newest member the band and plays lead guitar. Brent comes from a blues background and can play any style of music well.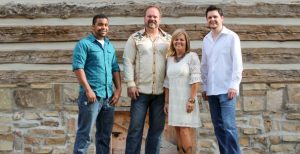 Band members (from left to right): Blake Atkins, Stacy Wilson, Teresa Wilson and Brent Womac
The Brasstown Community Civic Center is proud to be a part of the Blue Ridge Music Trails. Visit BlueRidgeMusicNC.com to find more traditional music of Western North Carolina.
Doors open at 6 p.m. and the music starts at 7 p.m. Admission is $8, children under 12 are free. Hot dog and barbecue sandwich plates, homemade cobbler, ice cream and root beer floats will be available for purchase.
Fundraiser concerts are held May through August on the second and fourth Saturdays. The center is a non-profit, and all proceeds from the concerts and facility rentals are for maintenance and upkeep of the building. For details, call 828-361-3040.