Hello Friends of the Brasstown Community Center,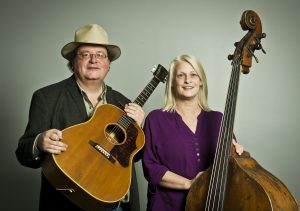 The Brasstown Community Civic Center Summer Concert Series continues Saturday, June 8th, 2019 with The Lone Mountain Band, so mark your calendars and come listen to some great bluegrass!
The Lone Mountain Band has established itself as one of the top Bluegrass bands of the Tennessee valley, since it was formed in the late 90's by former High School classmates Bobby Burns and Diana Phillips.
Bobby Burns was born into a musical family. He plays many instruments, but with the band plays mostly the mandolin and sometimes the fiddle or guitar on selected tunes. Bobby has played in professional bands since his teenage years. He is a full time luthier and repairman. Bobby sings lead and harmony vocals and does most of the MC work for the band.
Diana Phillips was trained as a classical pianist. While in college in Virginia she was exposed to Bluegrass music and fell in love with it. After school she moved back to Chattanooga where she teamed up with former classmate Bobby Burns. In addition to her skills on the bass fiddle, Diana is an excellent singer and songwriter.
The Brasstown Community Civic Center is proud to be a part of the Blue Ridge Music Trails. Visit BlueRidgeMusicNC.com to find more traditional music of Western North Carolina.
Doors open at 6 p.m. and the music starts at 7 p.m. Admission is $8, children under 12 are free. Hot dog and barbecue sandwich plates, homemade cobbler, ice cream and root beer floats will be available for purchase.
Fundraiser concerts are held May through August on the second and fourth Saturdays. The center is a non-profit, and all proceeds from the concerts and facility rentals are for maintenance and upkeep of the building. For details, call 828-361-3040.
As many of you already know, Pat and Henry Meineke are going to be leaving our area to relocate in Washington State, near their children and grandchildren. The Meineke's have had a great impact on the community on multiple levels over the years.
Please join us to give them a farewell sendoff on Friday, June 21, at 6:00 pm at the Brasstown Community Center. This will be a potluck, barbeque will be provided by Chef Clay Logan, please bring an appetizer, side dish or dessert to share. Mostly bring your good wishes for the Meineke's as they move into a new phase of their lives, they will be truly missed here in Brasstown.
There is a "Book Now" feature on the Brasstown Community Center Facebook page which is the best way to inquire about available dates and scheduling for space rental.
Your Brasstown Bell Crier,
Virginia Miller