Hello Friends of the Brasstown Community Center,
We are happy to report that the concert series is off  to a good start and potluck dinners are back on the schedule as well. Everyone involved with the Painting Socials have been having fun and getting creative. You have one last chance to participate if you haven't already done so. Unfortunately, we have had to cancel our Family Movie Nights. The good news is that there are plenty of other events coming up!
Take advantage of the following events in June:
June 9 – Painting Social – Fireworks over the Lake
June 11 – Bill Rinaldo in Concert
June 21 – Community Potluck
June 25 – Jonah Riddle and the Carolina Express in Concert
Painting Social #5 – Fireworks over the Lake
Thursday, June 9, 2022, 6:30pm – 8:30pm
$15 Fee for Painting Supplies
Refreshments Served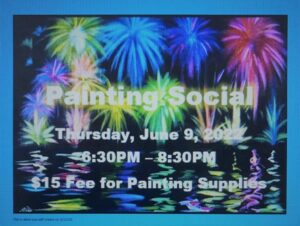 Fireworks  over the Lake is the final installment in a Series of 5 Painting Socials hosted at the Brasstown Community Center this year.
These socials are for fun and laughter, meeting new people or reconnecting with those we already know and for being creative & making memories!
Seating will be limited to a maximum of 12 people so that we can respect COVID-19 protocol. Please visit the Brasstown Community Center Facebook Page for more information or to send a message.
To register for this event, call or text Angie at 828-541-2271.
Reservation & Fee Payment Deadline is Tuesday, June 7, 2022.
Community Pot Luck
Tuesday, June 21, 6pm

The monthly dinner is held on the 3rd Tuesday of the month at 6:00 pm. Meet up with your friends and neighbors, share a meal, catch up or get to know each other better. Bring your family and a dish to share – all are welcome!
Summer Concerts are back!
Doors open at 6 p.m. and the music starts at 7 p.m. Admission is $10, children under 12 are free. Hot dog plates, including a drink, homemade cobbler, ice cream and root beer floats will be available for purchase. For details, call 828-361-3040.
Bill Rinaldo
Saturday, June 11, 7pm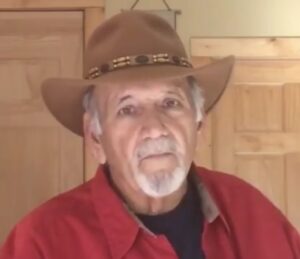 A resident of Hayesville, NC, Bill Rinaldo, is an entertainer, and retired PGA golf professional. In 2006, he won the "Brighthouse TV Senior Idol" competition in central Florida and went on to become the shows MC each year since.
He has been the opening act for BJ Thomas, Andy Andrews, Jay Johnson and more, has performed at numerous venues in Florida, Georgia and the Carolinas and even sang the Star Spangled Banner to open the NBA's nationally televised Orlando Magic game on January 27, 2009 and again at the Tampa Lightning NHL hockey game the next year.
Since he retired, he has a lot more time to hunt, fish, do shows and all the other things he loves. He is sure to provide us with an entertaining evening. Bill is a new performer for us and we hope you will give him a warm welcome!
Jonah Riddle and the Carolina Express
Saturday, June 25, 7pm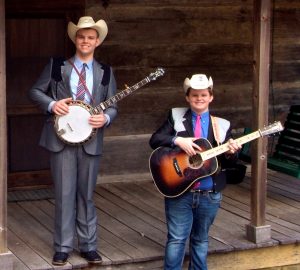 From the hills of WNC, two brothers set out to show the world their brand of bluegrass music, as so many brother duets have done before them. Jonah grew up playing gospel bluegrass in their church services. From the very beginning the brothers clung to the roots of the music.
Jonah has been playing the banjo since he was a teen. From the first time he picked up the instrument, he fell in love!
Grayson, plays guitar and does vocals. He has been playing guitar since he was only 5 years old. Their dad, Benjie Riddle, plays the upright bass.
As always, thank you for your support!
Your Brasstown Bell Crier,
Sarah
Around town: