Hello Friends of the Brasstown Community Center,
The Brasstown Community Center is proud to welcome back Brush Fire on Saturday, May 25th 2019 as part of our Summer Concert Series.
Brush Fire started as a band over 40 years ago. Their strong vocals and instrumental work, enthusiastic performances and varied repertoire keeps creating demand for their brand of bluegrass music.
Mike Fleming has played guitar with the group since it's inception. He also contributes lead and harmony vocals and, by default, serves as emcee for the stage shows.
Eddie "Dumplin" Turner is a founding member and adds to the group with strong lead and tenor vocals as well as his mandolin work.
Kerry Warbington joined the group in 1989 on banjo and vocal harmonies. He is well known in the bluegrass community as an exceptional banjo player and has performed with numerous groups over his career.
The newest member of the group is Hiawassee resident Robert Brewer who has played bluegrass around North Georgia for the past 26 years. He plays guitar and mandolin as well as upright bass.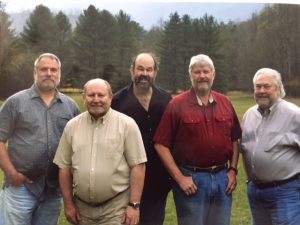 Photo from left to right: Scott Ferguson, Eddie "Dumplin" Turner, Kerry Warbington, Robert Brewer and Mike Fleming
The Brasstown Community Civic Center is proud to be a part of the Blue Ridge Music Trails. Visit BlueRidgeMusicNC.com to find more traditional music of Western North Carolina.
Doors open at 6 p.m. and the music starts at 7 p.m. Admission is $8, children under 12 are free. Hot dog and barbecue sandwich plates, homemade cobbler, ice cream and root beer floats will be available for purchase.
Fundraiser concerts are held May through August on the second and fourth Saturdays. The center is a non-profit, and all proceeds from the concerts and facility rentals are for maintenance and upkeep of the building. For details, call 828-361-3040.
Your Brasstown Bell Crier,
Virginia Miller