Hello Friends of the Brasstown Community Center,
My apologies for getting the Brasstown Bell out to you late.  February went by so fast it took a few days to realize it was over.  Now that we are into March, I think most, if not all of us are looking forward to some warmer weather and hopefully, some sunshine.  And that means we are getting closer to Bluegrass Concert Season which will be kicked off by the Wilson's on May 9th at the Brasstown Community Center.  Please mark your calendars and plan to come out and show support for our Community Center for the first concert of the season with a big turnout!  If you have heard the Wilson's in the past you know you don't want to miss an opportunity to see them perform.  If you haven't heard them in the past, take our word for it, they are fantastic!
Our Community Pot Luck Dinner is held every 3rd Tuesday of the month at 6:00 pm in the Brasstown Community Center on Settawig Road.  The March potluck will be held on Tuesday, March 17th.  Bring family, friends or neighbors and and a dish to share and join us for this wonderful Clay County tradition.  It is a great way to visit with others and meet new people in our community. That will also be St. Patrick's Day so wear some green!
Parking Lot Paving – Sometime during March or April the parking lot at the Brasstown Community Center will be paved thanks to a grant to cover the costs.  The improvement will help us all stay a little less muddy on rainy days.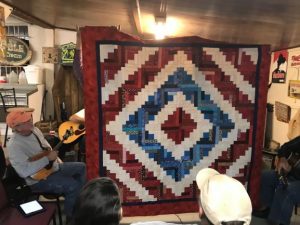 2020 QUILT RAFFLE – Pictured is the 2020 quilt that is being raffled as a fundraiser for the Brasstown Community Center. The quilt was generously donated by Deanna Skubal again this year.  Deanna has been a tireless supporter of the community center and has donated quilts for the last 5 years! We appreciate her artistry, quality workmanship and her generous heart. Thank you Deanna!  The 2020 quilt is a queen size that can been seen at Clay's Corner most days or at any of the fundraising events held at the community center, especially during the summer concerts between May and August. Raffle tickets are $1 each or 6 for $5.  The quilt is awarded during our Thanksgiving Community Pot Luck in November. You do not need to be present to win. The Brasstown Community Center is a 501.3c non-profit organization – we survive on your donations.
The NC Cooperative Extension is having their annual Fruit Tree and Plant Sale. You can choose from a variety of berry plants and different varieties of apple, cherry, peach, plum and pear trees.  March 13 is the last day orders can be placed.  Additional information is available here:  https://clay.ces.ncsu.edu/2020/02/annual-plant-sale-2/
Forestry Department Management Plan Meeting – Anyone interested in the Forestry Service's 20 year management plan for the Nantahala National Forest is invited to attend this event!  The Nantahala is one of our local treasures, come see what the plan is for conservancy and development.  The meeting will be held on Thursday, March 19 from 5:30-8:30 at the Brasstown Community Center.
Clay's Corner is open.  Hours are 7am – 7pm, Monday – Saturday.  Stop by and visit with the Logan family and gas up or pick up necessities.  Clay's Corner hosts an open jam starting around 7 pm on Friday nights.
The Crown Restaurant is now open on the hill above Clay's Corner.  For some outstanding vittles, try them out at 139 Emily Lane, Brasstown (accessed from Settawig Road).  Phone  828-516-1672.  They close early on Sunday and are closed Monday and Tuesday.
The Brasstown Community Center Web Page is full of helpful information:
https://brasstowncommunitycenter.org
– Find out all the things the Community Center offers
– Check out rental availability by clicking on the Calendar
– Print out a donation form
– See what's happening in our News & Events section
– Read all about the Summer Concerts
– Sign up for our Brasstown Bell newsletter or read it online
– Send us an email
Also, the Brasstown Community Center has a new contact for making reservations for the Community Center.  To rent the Community Center or Education Building, call Dave Merenda at 828-361-3040.
Please check out the websites of interesting places to visit in Brasstown and Clay County:
The John C. Campbell Folk School: https://www.folkschool.org
Walnut Hollow Ranch: http://walnuthollowranch.com
Cyndi Singh with Back to Balance Massage Therapy & Bodyworks: http://www.cyndisingh.com
The Kula Wellness Center: https://www.kula.love
Your Brasstown Bell Crier,
Virginia Miller