Hello Friends of the Brasstown Community Center,
Hello February!  We have a busy month in Brasstown so the Brasstown Bell Newsletter is a little longer this month.  Please check out all of the exciting activities listed below.
Back to Balance Massage and Body Works continues to sponsor acupuncture clinics by Dr. Shi Ying Kuai, O.M.D. from Asheville, N.C.  The next acupuncture clinics are scheduled for February 1st and 2nd.  There are still a few opening for this clinic.  Call Cyndi Singh at 828-644-8425 if you would like to schedule an appointment with Dr. Kuai.  Acupuncture can be used to improve many conditions in the body, as well as treat muscular and neurological pain.  You can learn more at www.itmonline.org/arts/acuintro.htm.  The first visit is $125.  Followup visits are $85.  We are very fortunate to have an acupuncture master coming to Brasstown to treat people in our community.
Our Community Pot Luck Dinner is held every 3rd Tuesday of the month at 6:00 pm in the Brasstown Community Center on Settawig Road.  The February potluck will be held on Tuesday, February 18th.  Bring family, friends or neighbors and and a dish to share and join us for this wonderful Clay County tradition.  It is a great way to visit with others and meet new people in our community.
As part of the Brasstown Concert Series, the Brasstown Concert Association presents Elise Witt & Mezzanine Band in concert at the John C. Campbell Folk School on Sunday, February 9th, 2020 at 2:30 pm.  Tickets are available at the door; adults $18, students $10.  Youtube video about Elise can be viewed here: https://elisewitt.com/web/press-2/videos/
The Brasstown Fire Department's New Station Fundraiser (lunch) will be held on at the Brasstown Community Center on Sunday, February 16th at 1:00 pm.  View flyer.
Also, the Brasstown Fire Department is hosting a discourse on Stress Management for First Responders, family and friends on Monday, February 3, 2020 at 6:00 pm at the Brasstown Community Center.  View flyer here.
Brasstown Community Center – We have a new contact for making reservations for the Brasstown Community Center.  To rent the Community Center or Education Building, call Dave Merenda at 828-361-3040.
2020 QUILT RAFFLE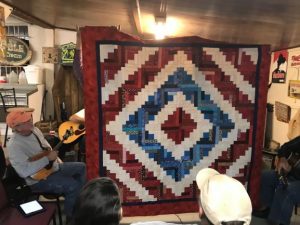 The 2020 quilt that is being raffled as a fundraiser for the Brasstown Community Center. The quilt was generously donated by Deanna Skubal again this year.  Deanna has been a tireless supporter of the community center and has donated quilts for the last 5 years! We appreciate her artistry, quality workmanship and her generous heart. Thank you Deanna!
The 2020 quilt is a queen size that can been seen at Clay's Corner most days or at any of the fundraising events held at the community center, especially during the summer concerts between May and August. Raffle tickets are $1 each or 6 for $5.
The quilt is awarded during our Thanksgiving Community Pot Luck in November. You do not need to be present to win. The Brasstown Community Center is a 501.3c non-profit organization – we survive on your donations.
Clay's Corner is open.  Hours are 7am – 7pm, Monday – Saturday.  Stop by and visit with the Logan family and gas up or pick up necessities.  Clay's Corner hosts an open jam starting around 7 pm on Friday nights.
The Crown Restaurant is now open on the hill above Clay's Corner.  For some outstanding vittles, try them out at 139 Emily Lane, Brasstown (accessed from Setawig Road).  Phone  828-516-1672.  They close early on Sunday and are closed Monday and Tuesday.
The Brasstown Community Center Web Page is full of helpful information: 
https://brasstowncommunitycenter.org
– Find out all the things the Community Center offers
– Check out rental availability by clicking on the Calendar
– Print out a donation form
– See what's happening in our News & Events section
– Read all about the Summer Concerts
– Sign up for our Brasstown Bell newsletter or read it online
– Send us an email
Please check out the websites of interesting places to visit in Brasstown and Clay County:
The John C. Campbell Folk School – https://www.folkschool.org
Walnut Hollow Ranch – http://walnuthollowranch.com
Cyndi Singh with Back to Balance Massage Therapy & Bodyworks – http://www.cyndisingh.com
The Kula Wellness Center – https://www.kula.love
Your Brasstown Bell Crier,
Virginia Miller