Thank you for the great turnout for our annual Community Thanksgiving Potluck! This is always such a nice way to visit with friends and neighbors. We have so much to be grateful for!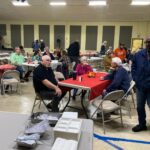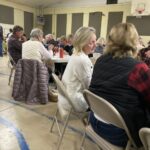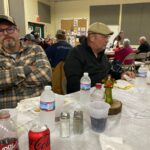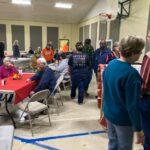 A special shout-out to the kitchen crew for all their hard work and in particular our favorite cook, Kathy Teems – year after year she creates a feast for us. Thank you to those who stayed behind and helped clean up and put things away.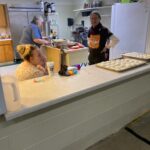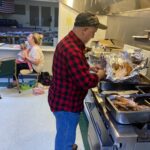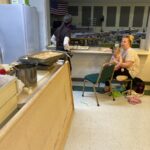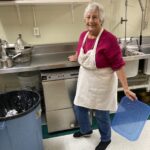 And another thank you for all the great side dishes and desserts provided by community. We didn't get to the dessert table for a "before" picture!
This year we even had entertainment thanks to the Barker family and their friends And the quilt was won by a Brasstown resident – Pam Cray (left in photo). Congratulations! And thank you again to Deanna Skubal who donated her quilt for this fundraiser.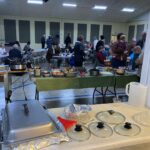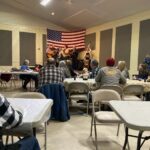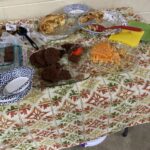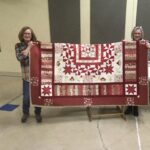 We also want to  thank Carolina Crafters in Murphy who has so generously displayed our quilt in their store and sold tons of tickets throughout the year. As a matter of fact you can see the 2023 quilt at their store right now! (here is a sneak peek)
We welcome two new Board members Melvin Cantrell and Carolyn Anderson and thank Emily Fulford and Angie Jaco and Jackie Jentzch for their help in the past year.  The Board members for 2023 are Peggy Cranford, Linda Gibson, Mary Bess Shelton, Melvin Cantrell and Carolyn Anderson.
Melvin has already started working for us by applying and receiving a $10,000 grant from Grannie's Attic in Hayesville so we can purchase a new lawn mover – Thank you Grannie's Attic and Melvin!
Carolyn Anderson has agreed to take over the reservations job so if you need to rent the Community Center for a class or an event, call her at 828-361-3040.
And a great big thank you to Clay Logan, our project manager who scheduled and supervised the building of the outdoor stage/gazebo project this year paid for by a 2021 grant from the  Community Foundation of WNC. what a great addition to the Brasstown Community Center!
He also managed the Schoolhouse Generator Project to install a new propane tank and generator to power the schoolhouse. This was paid for in part by the Percy E. Ferebee grant we received inn 2021. With the addition of this second generator and a few other tweaks to the Community Center, we are now officially qualified as a Red Cross shelter in our area in case of emergencies.
Clay also attended the Honors Award dinner in Asheville hosted by the WNC Communities program ans received a check for $600. WNC Communities hosts multiple programs throughout the year to help community centers all over WNC, They have "Coffee Hours" on Zoom to bring together community center leaders to talk about a variety of topics, like grant writing, accounting, best Board practices, and programs available in their communities.
So thankful for all of people who support the Brasstown Community Center, for the volunteers that help us put on Paint Socials, Easter Egg Hunts, Summer Bluegrass Concerts and our Annual Community Thanksgiving Potluck!
We will see you again next year, enjoy the holiday season and bring us your ideas for events or projects you would like to see happening at the Community Center. The Board meets every month right after the monthly potluck dinners, every third Tuesday of the month at 6pm starting in January 2023.
Gratefully, your Brasstown Bell Crier,
Sarah Staugler