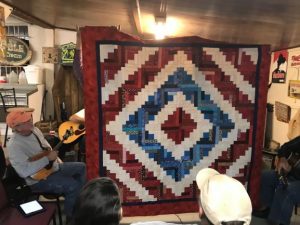 Here it is, the 2020 quilt we are raffling as a fundraiser for the Brasstown Community Center. The quilt was generously donated by Deanna Skubal again this year.
Deanna has been a tireless supporter of the community center and has donated quilts for the last 5 years! We appreciate her artistry, quality workmanship and her generous heart. Thank you Deanna!
This is a queen size quilt that can been seen at Clay's Corner most days or at any of the fundraising events held at the community center, especially during the summer concerts between May and August. Raffle tickets are $1 each or 6 for $5 and for sale at Clay's Corner.
The quilt is awarded during our Thanksgiving Community Pot Luck in November. You do not need to be present to win. The Brasstown Community Center is a 501.3c non-profit organization – we survive on your donations.