Every month the Brasstown Community Center hosts a community potluck on the third Tesday of the month so we can come together, share food and see friends. In November, we host the Thanksgiving potluck. The Community Center supplies turkey, ham, mashed potatoes, dressing and rolls and the community shares vegetables and desserts.
Each year, it is an amazing event allowing us to recognize our volunteers throughout the year, hold elections for Board Members and raffle off a quilt as part of our fundraising efforts. This is a time for the community to come together, celebrate what we all love about Brasstown and share fun and food with each other.
Congratulations to our 2020 Board Members:
David Anderson – President
Joe Deslauriers – Vice-President
Linda Gibson – Secretary
Emily Fulford – Treasurer
Dave Mirand – Maintenance
Bill Carringer – Board Member
Peggy Cranford – Board Member
Here are a few pictures of the 2019 Thanksgiving potluck – thank you to the Teems family (Kathy, Emily and Katie) for their tireless efforts in the kitchen, and to all the volunteers who set up tables, decorated, and helped clean up afterwards. This event would not be such a success without you!
Getting ready in the kitchen!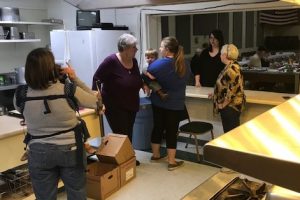 Selling last minute chances on the quilt…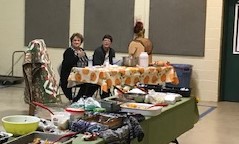 In line for food – the best part of the evening!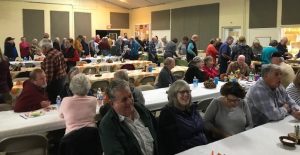 Leftovers on the foreground…
This year's quilt winners – Mr. and Mrs. Bob Myers of Atlanta
(pictured with Clay Logan in the center)