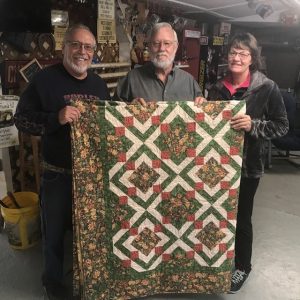 Congratulations to Mr. and Mrs. Bob Meyers of Atlanta!
(pictured here with Clay Logan in the center)
We want to thank Deanna Srubal for her generosity in donating this beautiful quilt to support our fundraising efforts. Deanna is an avid quilter and has donated queen size quilts to the Brasstown Community Center for the past several years. We can't say enough about your fantastic work!
Thank you also to all the volunteers who sold tickets all year long during our Summer Concert Series and down at Clay's Corner. This year's quilt raffle raised close to $1,200!