Update: Kelli Allen of Atlanta, Georgia was the winner of the beautiful quilt which was donated by Deanna Skubal.  $825 was raised from raffle tickets for the quilt.  Thank you!
In 2018, we are trying to finish the last few details of our new school house. This addition, which is separate from the main building will eventually house up to two classrooms. There will be a divider that allows us to create two smaller classrooms or open the space up for one large room. The schoolhouse will be available for events that last for more than one day or require a smaller space.
We have been working very hard over the last year to fund this project and we received some generous donations and grants that have gotten the bulk of the project completed. The building is up, the plumbing and air conditioning/heating unit are in and the inside dry wall is up and painted, most of the wiring is complete. We now need funds to purchase inside doors, sinks and cabinets, furnish the classrooms, and install the bathroom equipment and cabinets. We are almost there – so this year's fundraisers including this quilt raffle will help us finish the project so we can serve our community better with more more options for using the Brasstown Community Civic Center.
This year, we again have a beautiful queen size quilt, made by and generously donated by Deanna Skubal. Deanna and her husband Fred are long-time friends of the Brasstown Community Center and we appreciate everything they do for us.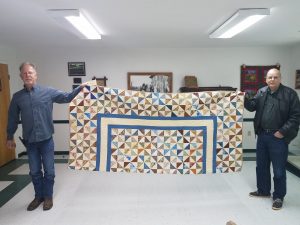 To see the quilt "in person" and purchase a raffle ticket, come to the monthly pot luck dinner on the third Tuesday or one of our Summer Concerts held every 2nd and 4th Saturday in May through August at the Brasstown Community Center.
As usual, the drawing will take place during our big Thanksgiving Pot Luck Dinner held on the third Tuesday in November at the Community Center. You do not have to be present to win – just provide us with a phone number where you can be reached at that time of year if you are visiting.
Tickets are $1 each or 6 for $5!