Hello Friends of the Brasstown Community Center,
Below a copy of the NC Cooperative Extension Classes being held at the community center – the next class is this Tuesday, August 31, 2021. Call the number on the flyer to register – space is limited!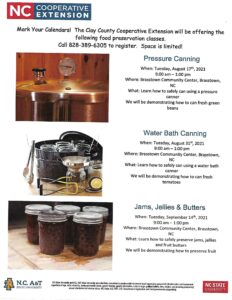 Also, as certain parts of the country prepare for the next hurricane (Ida), some of our NC communities are still trying to recover from devastating flooding caused by tropical storm Fred. Below is a plea for help from one such community – please help if you can.
Bethel Rural Community Organization Establishes Flood Relief Fund for Fred Victims

Tropical Storm Fred made its way from Florida to the Western North Carolina mountains to create disaster for eastern Haywood County.  Some of the hardest hit areas in terms of destruction and loss of life were the Bethel and Cruso communities.  On Tuesday, August 17, waters poured from the high mountains, tearing a pathway through the rural Cruso area, ripping houses from their foundations, propelling vehicles down the river, and creating human misery with five confirmed deaths and one still missing. Hundreds of millions of dollars in damages occurred in a matter of hours.  Many families have become homeless, with 225 structures destroyed.

To support victims, numerous churches and organizations have assisted the command center at Bethel Baptist Church with food/clothing distribution.  Bethel Rural Community Organization (BRCO) will be a collection center for donations for those who wish to contribute.  BRCO has established a "Flood Relief Fund" designated to accept donations.  BRCO's Benevolence Committee is spearheading the effort, and the committee is developing criteria for fund disbursement. 

For those who wish to donate to the Flood Relief Fund, please make checks payable to BRCO, PO Box 1333, Waynesville, NC 28786.  Please indicate "Flood Relief Fund" on the check.  BRCO's website can also accept Pay pal donations: www.bethelrural.org.  
Hoping everyone stays safe as the Covid-19 variant Delta surges all over the country!
Your Brasstown Bell Crier,
Sarah