Hello Friends of the Brasstown Community Center,
The Brasstown Community Center is once again open to the public.  Vaccinations are up and Covid cases and deaths are down in the United States but people are still testing positive, including here in Clay County.  People are still dying and some of the ones who live have long term health problems. Please continue to wear masks indoors and take appropriate sanitizing measures to protect the elderly and people with underlying health problems, and ease the burden on our healthcare professionals.  If you haven't been vaccinated but would like to be, you can call the Clay County Health Department at (828) 389-8052 to schedule an appointment.
The Brasstown Community Center large building is now available to rent.  Face Masks help prevent the spread of the Coronavirus and are recommended.  The Brasstown Community Center Education Building is available for rent to groups of 20 or less.  The Education Building now has a new screen and projector which can help facilitate teaching.
The Brasstown Community Center Board of Directors met last week.  Due to Covid and other factors, there will be no Bluegrass Concerts at the Community Center this summer.
Smile.amazon.com:  Please remember to use smile.amazon.com for Amazon purchases.  Amazon donates 0.5% of your eligible SmileAmazon purchases to the charitable organization of your choice.
The Brasstown Community Center is a 501C3 charitable organization.  Any and all donations will be greatly appreciated!  Checks can be sent to Brasstown Community Civic Center, PO Box 111, Brasstown, North Carolina 28902.
The Silva Gallery is open Wednesdays 9-4 pm, Thursday and Friday from 10 am to 4 pm and Saturday 10-3pm.  Pam has many beautiful pieces of art. clothing, functional pottery, jewelry and other items that will brighten up your life or make the perfect gift for a loved one.  Stop by and say hello and check out the many beautiful things in the gallery.
The Brasstown Farmers Market is held every Wednesday 9-1 (In the field across the street from the Silva Gallery).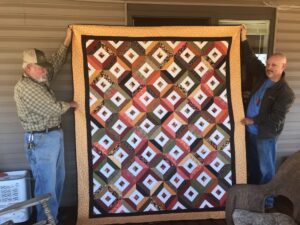 Deanna Skubal has donated another beautiful quilt to the Brasstown Community Center to be raffled to raise funds for the Community Center.  Tickets can be purchased at Clay's Corner and will also be available at the Art Walks in Murphy which are held on first Fridays, May through December from 5 pm to 8 pm.  Picture is (hopefully) posted below.
Your Brasstown Bell Crier,
Virginia Miller