Due to Covid-19 the May 2020 bluegrass concerts at the Brasstown Community Center have been canceled.  The June concert will be re-evaluated next month.
We are pleased to announce the lineup for the 2020 Summer Concerts. Some tried and true favorites are returning and we have a few new additions this year. We hope to see you at one or all the concerts. Bring your friends and family and enjoy some great bluegrass music!
May 9           The Wilsons
May 23         Just Us
June 13         Carolina Express
June 27         Chatuga Ridge
July 11          Brush Fire Lone Mountain
July 25          Blue Ridge Grass
August 8       The Pressley Girls
August 22     Chuck Nation's Band
The concerts are held May through August on the second and fourth Saturdays. Doors open at 6 p.m. and the music starts at 7 p.m.  Admission is $8, children under 12 are free. Hot dog and barbecue sandwich plates, homemade cobbler, ice cream and root beer floats will be available for purchase.
The center is a non-profit, and all proceeds from the concerts and facility rentals are for maintenance and upkeep of the building. The Brasstown Community Center is a 501C3 charitable organization.  Any and all donations will be greatly appreciated!  Checks can be sent to Brasstown Community Civic Center, PO Box 111, Brasstown, North Carolina 28902.
The Brasstown Community Civic Center is proud to be a part of the Blue Ridge Music Trails of North Carolina. Visit BlueRidgeMusicNC.com to find festivals, concerts, jam sessions, and plenty of singing and dancing to the Traditional Music of Western North Carolina.
June 13, 2020 – Jonah Riddle and the Carolina Express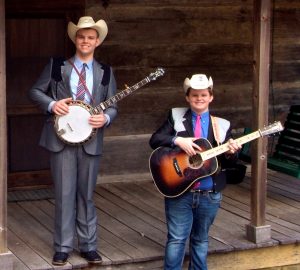 Born and raised in the hills of Western North Carolina, Jonah and Grayson Riddle have grown up with bluegrass heritage all around them.  At ten years of age, Jonah's grandad began to teach him to play dobro. With his grandad at his side, he began to dive deeper into music, until one day he picked up a banjo and knew that this was the instrument for him!
At a very early age, Grayson also learns to play guitar from his grandad. His love for this instrument quickly grew as he would stand in church ad hold his guitar and just strum, even though he didn't know how to fully play it yet. In addition to guitar, Grayson can play the upright bass and electric bass.
Photo from left to right: Grayson and Jonah Riddle
June 27, 2020 – Chatuga Ridge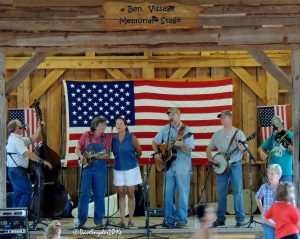 Chatuga Ridge Bluegrass is a traditional bluegrass band with members located in the upstate of South Carolina. The band was first formed in 1988 by Mark and Jody Vissage.
When Jody's brother, Chris King, then banjo picker, had to move downstate for a job promotion, the band was disassembled until the spring of 2010.
At that time, Mark and Jody Vissage got together with Truman Nicholson and David and Jan Bryant to restart the group. Finally, Lane Holcomb joined the band in 2014 giving us the band as it exists today.
Photo from left to right: David Bryant (bass, vocals), Jody Vissage (mandolin, vocals), Jan Bryant (harmony vocals), Mark Vissage (guitar, lead vocals), Truman Nicholson (banjo, vocals), Lane Holcomb (fiddle)
July 11, 2020 – Lone Mountain Band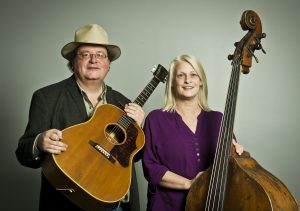 The Lone Mountain Band has established itself as one of the top Bluegrass bands of the Tennessee valley by former High School classmates Bobby Burns and Diana Phillips.
Bobby was born into a musical family. He plays many instruments, but mostly the mandolin and sometimes the fiddle or guitar. Bobby has played in professional bands since his teenage years. He sings lead and harmony vocals and does most of the MC work for the band.
Diana Phillips was trained as a classical pianist. While in college in Virginia she was exposed to Bluegrass music and fell in love with it. After school she moved back to Chattanooga where she teamed up with former classmate Bobby Burns. In addition to her skills on the bass fiddle, Diana is an excellent singer and songwriter.
July 25, 2020 – Blue Ridge Grass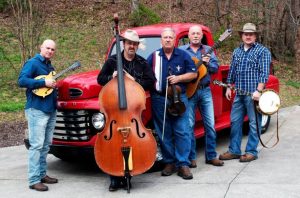 Blue Ridge Grass (BRG) was formed out of a jam session in 1981. Founding members were Ray Ritchie, Greg Brooks, Jim Ritchie, Buddy McClary and Don Miller.
The band traveled across the North Georgia mountains for about 30 years participating in festivals, private events, fund raisers, community events and what ever else they were invited to be a part of. There were limited band member changes during those years.
Photo from left to right: Jeff Graves – mandolin, Robbie Mathis – bass, Greg Brooks – fiddle, Perry Suits – guitar, and Jamie Mason – banjo
2019 brought new life to Blue Ridge Grass. Longtime members Greg and Jamie joined Perry Suits, Jeff Graves and Robbie Mathis to revive the music of BRG. Jeff can bring a tear to a glass eye with his lonesome vocals, Robbie keeps the group in time with a solid bass line and Perry needs no introduction as bluegrass is a family tradition in the Suits family.
June 8, 2020 – The Pressley Girls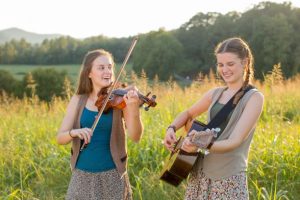 Twin sisters, Katie and Corie Pressley, were born and raised in the Appalachian mountain community of Brasstown, NC. They play a mix of original, folk, gospel, appalachian music. The girls enjoyed a musical influence literally from their arrival home from the hospital. Jerry Wilson, their grandfather, who they call Pap, was a musical legend in their neck of the woods.
Jerry performed for many years as part of The Wilson Brothers. The duo performed gospel music in the polished high harmonies of the classic brother duet style. Over the years they have won many awards, produced numerous recordings, and were featured in several publications.
The girls tell the story of laying in their bedroom floor with ears pressed tightly to the floor to hear the sounds of music flowing up from the basement as Pap and his band practiced. Katie says "Mama would make us go to bed but as soon as the lights were out we'd sneak from the covers, lay in the floor, and let the music lull us to sleep."
Photo: Corie Pressley plays the guitar and mandolin while singing harmony with her sister, Katie, who plays the fiddle while singing lead.
Aug 22, 2020 – Chuck Nation's Band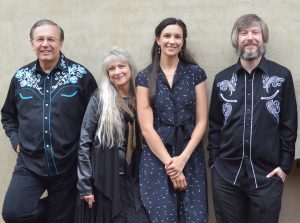 They made their Carnegie Hall debut performance in New York City in 2015. In 2016 they performed in concert at the historic Ryman Auditorium in Nashville, TN and were nominees for 2016 Georgia Music Awards for Americana/Bluegrass artist of the year. They have toured in Canada, Europe and Asia as well. It is always a pleasure to welcome them in Brasstown.
In addition to his singing and songwriting skills, Chuck Nation is equally skilled at playing fiddle, banjo, mandolin and guitar. Susan Nation (vocals/acoustic bass), is an acclaimed singer and songwriter who has performed Bluegrass around the world. Her singing and her solid bass playing skills provide a firm foundation to the band.
Libby Nation (vocals/guitar/mandolin/piano), sings and plays many instruments equally well. She teaches private music lessons to a full schedule of students in Atlanta, Alpharetta, and Gainesville, GA. Jody Hughes (banjo/guitar), is a multi-instrumentalist and vocalist from Canton, GA. He has performed bluegrass, solo jazz guitar, and popular music in various ensembles throughout the Southeast.
Photo from left to right: Chuck Nation, Susan Nation, Libby Nation and Jodi Hughes