Each year, the Brasstown Com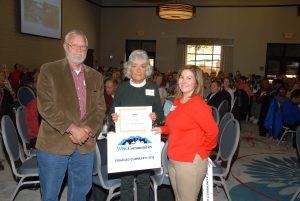 munity Center participates in the WNC Communities Honors Awards program.
The 65 communities participating in this year's WNC Honors program represent 5,500 volunteers with an impressive 195,500 hours in outreach programs dedicated to beautification, conservation, education, health & wellness, and the local economy.
Photo from left to right: Clay Logan, Judy Logan, Terri Wells (Director of Community and Agricultural Programs for WNC Communities).
We submit a description of our community center, its activities, projects, and volunteer activities.  WNC Communities rewards services like ours all across  Western North Carolina.
This year, Clay and Judy Logan represented the community center at the annual Awards dinner in Asheville and accepted a check for $500 on behalf of the Brassstown Community Civic Center.
For more information about the program, visit their web site at: wnccommunities.org