Hello Friends of the Brasstown Community Center,
The Brasstown Community Center is proud to welcome Jonah Riddle and the Carolina Express on Saturday, July 28th 2018 as part of our Summer Concert Series.
From the hills of Western North Carolina, two brothers set out to show the world their brand of bluegrass music. Jonah and Grayson grew up playing gospel bluegrass in their church services. From the very beginning they clung to the roots of the music, something that many young pickers tend to overlook. The love for the music pushed Jonah to
start his own band, Jonah Riddle and Carolina Express.
Jonah plays a style of banjo that is quickly fading away in today's business. You can easily hear the Stanley, Scruggs, and Osborne influences in his sound, the sounds of the pioneers! Grayson is on guitar and does all of the group's lead singing. His style of guitar playing has a strong, steady rhythm, full of all the runs that helps make bluegrass what it is! Their father, Benjie, holds down upright bass duties for the band.
The Brasstown Community Civic Center is proud to be a part of the Blue Ridge Music Trails. Visit BlueRidgeMusicNC.com to find more traditional music of Western North Carolina.
Doors open at 6 p.m. and the music starts at 7 p.m. Admission is $5, children under 12 are free. Hot dog and barbecue sandwich plates, homemade cobbler, ice cream and root beer floats will be available for purchase.
Fundraiser concerts are held May through August on the second and fourth Saturdays. The center is a non-profit, and all proceeds from the concerts and facility rentals are for maintenance and upkeep of the building. For details, call 828-361-3040.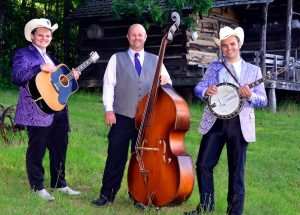 From left to right: Jonah, Benjie and Grayson Riddle