Every year in November, instead of our regular monthly pot luck dinner, we host a grand Thanksgiving/Christmas Potluck. This year it will be held on the 2nd Tuesday of the month, November 14th at 6 pm at the Brasstown Community Center.
The Community Center will supply the turkey, ham, mashed potatoes and rolls and we ask the community to bring vegetables and desserts. We usually have a big crowd and there is no better way to celebrate the beginning of the holiday season with family, friends and neighbors.  Everyone brings their best dishes and the food is fabulous!
As always, volunteers will be needed to help set up tables, decorate, peel potatoes and other food preparation, and help with cleanup. If you have decoration ideas, bring them, if you have a few minutes to help set up tables or chairs, drop on by, if you can help peel potatoes, come early!
We also need help after 4pm to prepare the food tables and as always, we need help cleaning up afterwards.  The cooks work all day usually starting at 7 am, so let's make sure they don't have to stay till 9pm cleaning up the kitchen!
If you can help, just come by any time during the day and there will be something that needs to be done.
Board Member Elections
During the Thanksgiving pot luck, we also review everything the Community Center has done throughout the year and we discuss upcoming projects. We also elect new board members. This year, Joe Deslauriers, Peggy Cranford and Carolyn Anderson finish their term and need to be replaced on the board. If you are interested in serving, contact Clay Logan at 828-557-5723.
Quilt Raffle
We will also raffle off the quilt so generously donated by Deanna Skubal. You will have a chance to buy tickets if you don't already have some. $1 for one or $5 for 6.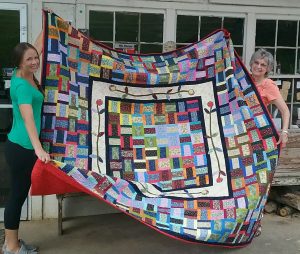 There will not be a potluck in December.